Top 10 Cookbooks from My Last 20 Years Cooking
---
Love cooking? Me too. I've been cooking passionately for two decades and love it more than ever. My family's catholic tastes in food have led us on recipe adventures from berbere to tempoyak to hunkar begendi, but we also love simply dressed fruit and the laziest of salads.
Regardless of your cooking tastes or skills, this post will be worth any cook's time in reading because:
We don't like fussy cooking
We have eaten a lot of great food in our time and have high standards
We cook a heck of a lot: our cookbooks aren't just food fantasy reading.
While many of our couple hundred cookbooks are kept for sentimental reasons or a few recipes we've loved, proven favorites have emerged over the last 20 years. So here's my gift to all you cooks out there: the very best cookbooks we know.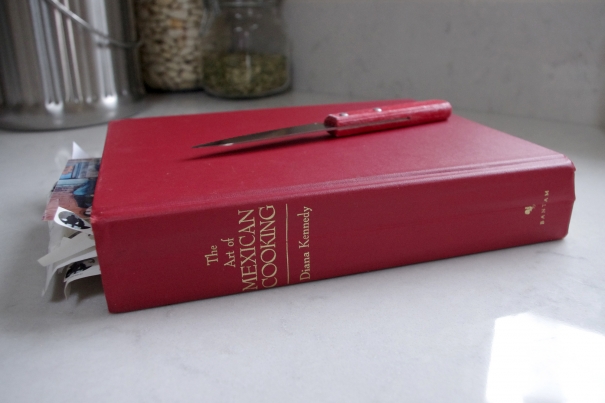 When a British woman is awarded the Order of the Aztec Eagle by the Government of the Republic of Mexico, you can bet she's done something remarkable. This book is a masterpiece. I grew up half an hour from the border of Mexico, and Mexican is my comfort food. That's remained true for our family, because authentic Mexican food is so fundamentally satisfying (it's no wonder they are one of the happiest countries on earth). We have quite a few Mexican cookbooks, but this is the one. Well-loved recipes from it include:
Vitualla (a stew or burrito filling with meat, fruit, and rice) • Flautas; Papas Guisadas (potato filling) • Chilaquiles de Tequila • Tamales Colados • Arroz Verde • Sopa de Macarron y Acelgas • Chayotes al Vapor • Hongos al Vapor (makes great mushroom tacos) • Tacos de Pollo • Mole Negro Oaxaqueno • Mole Verde de Oaxaca • Chilayo (pork and tomatillo stew) • Tatemado de Colima • Carnitas Caseras • Carne Machaca, y con Huevo • Carnita con Chile • Huevos a la Hacienda • La Sabana (a filet mignon pounded out into a huge sheet, dressed with lime juice and serrano) • Tortillas Made with Masa Harina • Frijoles de Olla • Frijoles Refritos • Salsa de Jitomate • Salsa Mexicana • Guacamole
Buy this book »
---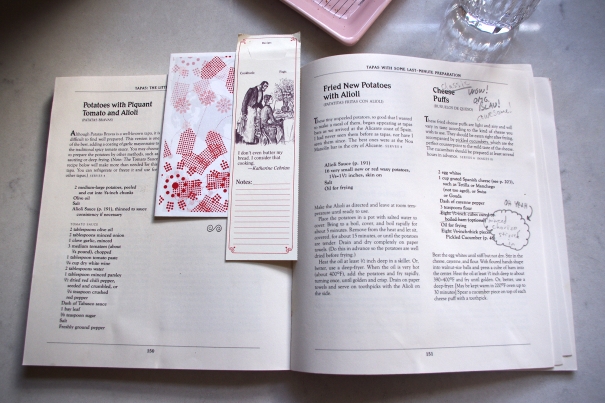 2) Tapas by Penelope Casas
I felt compelled to write on the cover of this cookbook in Sharpie, "Note: Everything in this book is awesome." The recipes allow us to make feasts right out of our pantry. Impress guests with what seems like fancy food, but is so easy that you can focus on more important stuff, such as drinking Spanish wine with your friends.
The Tapas Lifestyle (an important recipe!) • Chickpeas and Spinach • Tuna Balls in Wine Sauce • Seafood Medley with Sherry and Brandy • Pickled Cucumbers • Banderillas (many recipes for tasty foods stuck together on toothpicks) • Cauliflower Salad • Cabbage, Green Pepper, and Raisin Salad • Anise-Flavored Beet Salad • Salad of Tiny Potatoes and Tuna • Fresh Ham with Orange and Walnut Sauce • Canapé of Fried Fish with Asparagus • Tuna Canapé • Chorizo Speared on Bread Cubes • Cheese Puffs • Stir-Fried Mushrooms, Shrimp, Ham, and Peppers • Sautéed Frogs' Legs • Chorizo Marinated and Cooked in Wine • Tortilla a la Espanola
Buy this book »
---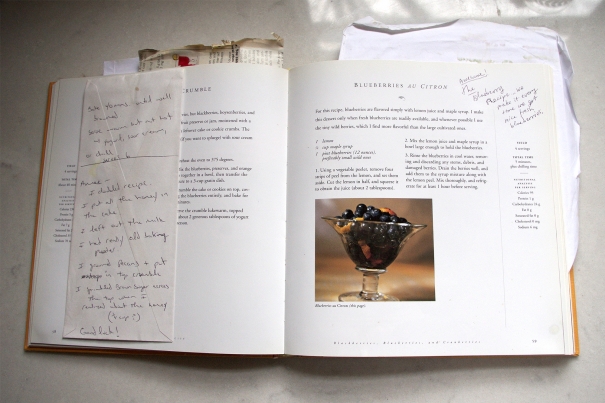 3) Sweet Simplicity: Jacques Pepin's Fruit Desserts by Jacques Pepin
This book is full of fruit-oriented desserts that are simple, lovely, and even good for you. Many are 10-minute-prep stunners. Check this out: mix a pint of blueberries with a big curl of lemon zest, lemon juice, and maple syrup. Chill together for a few hours and, voila, you have a glorious summer dessert. And this trick: chopped dried apricots are a great way to absorb all that extra liquid given off by fruit when making a fruit cobbler. There's also some fancy-looking recipes with pastry and so on, but everything stays true to the title in being simple. Chapters are by fruit, so just open it up to what's in season and go.
Gratin of Apples, Walnuts & Granola • Apricot & Fig Souffle • Baked Bananas in Lemon Rum Sauce • Broiled Bananas with Lemon & Sugar • Blueberries au Citron • Cherry Bread Pudding • Magoes with Cognac • Cantaloupe & Strawberries in Honey Sauce • Nectarine Crisp • Roasted & Caramelized Pears • Plum Cobbler • Quick Plum & Almond Cake • Cream of Raspberries & Yogurt • Warm Raspberry Gratin with Sour Cream • Rhubarb & Berry Nectar with Mint
Buy this book »
---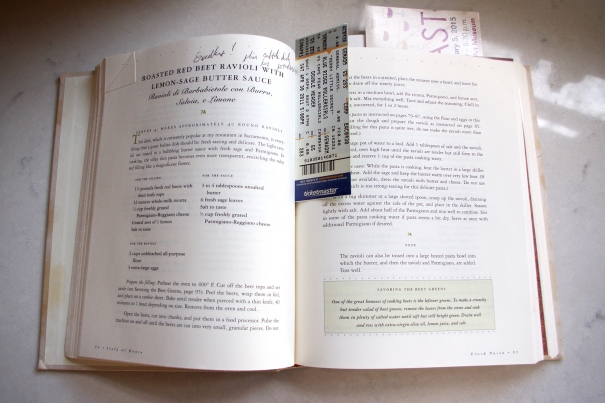 4) Italy al Dente by Biba Caggiano
We have had this book for 17 years and still have not found a better Italian cookbook. The book's focus is risottos, soups, and pastas. We love Biba's recipes, which cover a range from easy, quick, and addictive midnight pasta recipes to glorious handmade filled pastas. Here's a list of some of the wonders contained inside, about which she will teach you all you need to know:
Roasted Red Beet Ravioli with Lemon-Sage Butter Sauce • Tortelloni with Swiss Chard, Spinach, Ham and Ricotta (also has Pine Nuts…mmm) • Spaghetti with Cauliflower, Pine Nuts, and Raisins • Spaghetti with Fresh Tomatoes, Pancetta, Cream, and Worcestershire Sauce • Lasagne with Speck and Mixed Mushrooms • Shells with Porcini Mushrooms, Sausage, and Cream (with Saffron) • Risotto with Fresh Tomatoes and Basil • Lentil and Escarole Soup • Cannelloni with Shrimp Stuffing • Spaghetti with Oven-Roasted Tomatoes and Garlic • Yellow and Green Noodles with Mortadella, Peas, and Mushrooms • Basic Potato Gnocchi • Cappellaci Filled with Squash
Buy this book »
---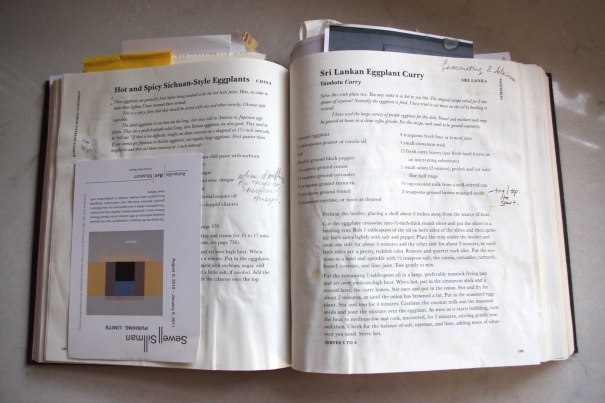 5) Madhur Jaffrey's World Vegetarian by Madhur Jaffrey
The book is full of delicious recipes from around the world that happen to be vegetarian. It is the first place we turn for vegetable recipes when we don't yet have a specific cuisine in mind. I just look up the primary ingredients I want to use in the book's index and go from there. Madhur Jaffrey does so much more than Indian food, and the flavors in here go far beyond the many vegetarian cookbooks that are in what I call the hippie taste. You'll also want this book because Jaffrey is unfussy, recipes are short and precise, and they work.
Long Beans with Fermented Black Beans • Black Tuscan Kale with Raisins • South Indian Tomato Relish • Puréed Beet Salad (a Greek nun's recipe) • Chickpeas & Chana Dal Cooked in a Mint Sauce • Sour Fennel-Flavored Eggplant • Chickpea Flour Pancakes • Sweet & Sour Tempeh with Peanuts • Split Urad Beans Cooked in the Lucknow Style • Beets with Mint and Yogurt • South Indian Cabbage • Cauliflower Stir-Fried with Ginger and Cilantro • Eggplants & Mushrooms Cooked in a Japanese Sauce • Hot & Spicy Sichuan-Style Eggplants • Sri Lankan Eggplant Curry • Spinach Bhaji • Fried Okra with Fresh Curry or Basil Leaves • Sri Lankan Sweet Potatoes with Cardamom and Chiles • Turnips with Yogurt and Tomato • Chickpea, Pumpkin, and Raisin Couscous • Carrot Raita • Trinidadian Split Pea Soup • Kohlrabi Salad • Vietnamese Sweet Mango Lassi • Sweet Banana Lassi • Delhi-Style Cilantro & Mint Chutney
Buy this book »
---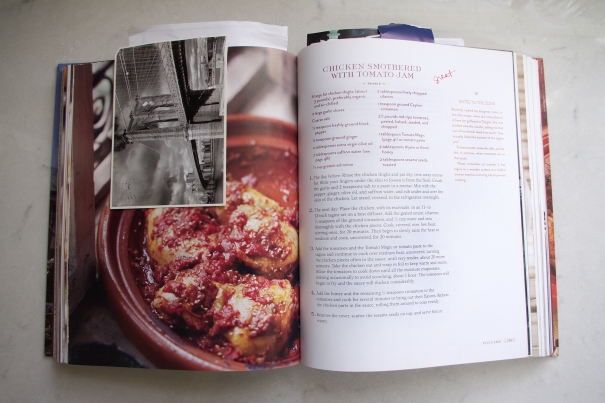 6) The Food of Morocco by Paula Wolfert
If you haven't yet discovered Moroccan cooking, give it a try. It's one of those forgiving, flavorful, healthy cuisines that just makes life better. Paula Wolfert's loving tribute to the cuisine includes a wonderful range of well-written recipes. Tip: don't worry that you must have a tagine; an enameled cast iron pot is often what we reach for when making tagines, because our tagine is too small to cook for a crowd. With a little adjustment to liquid and cooking time, the recipes still work. We love these recipes so much we've even done a couple Moroccan Thanksgivings.
Oven Roasted Tomatoes with Toasted Pine Nuts (the sesame seed variation is awesome too) • Chicken Tagine with Prunes and Almonds in the Style of the Rif Mountains • Chicken with Carmelized Quinces and Toasted Walnuts • Chicken Smothered with Tomato Jam • Chicken with Preserved Lemon, Soft Black Olives, and Nigella Seeds • Lentils with Swiss Chard, Butternut Squash, and Meat Confit • Chicken with Fennel, Preserved Lemon, and Olives • Lamb Tagine with Quinces • Casserole-Roasted Chicken with Preserved Lemon and Olives • Kefta Tagine with Herbs, Spices, and Lemon • Marak of Swiss Chard • Artichoke and Orange Compote • Winter Squash with Caramelized Onions • Grated Cucumber Salad with Oregano • Carrot and Golden Raisin Salad
Buy this book»
---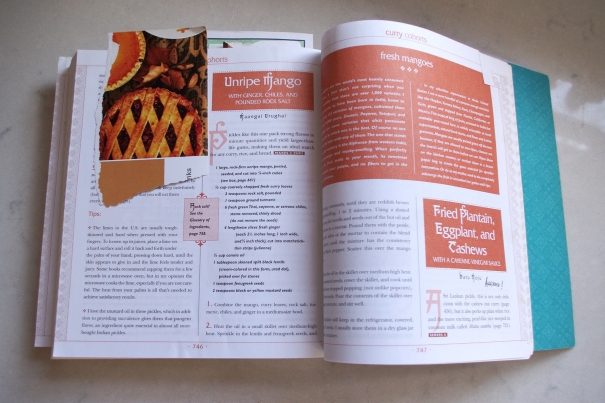 7) 660 Curries by Raghavan Iyer
If you ever listen to Lynne Rossetto Kasper's radio show, The Splendid Table, you are likely to have heard Raghavan Iyer's name. He's a genius. The number of recipes in this book, the fact that most are outrageously delicious, and that it encompasses so many regions of India blows me away. How did he do it? Check out some of the stellar recipes we've tried:
Fried Plantain, Eggplant, and Cashews with a Cayenne-Vinegar Sauce (a totally addictive pickle that can sit in the fridge for weeks) • Breast of Chicken with Tomato and Coconut Milk • Cashew Lamb with Coconut Sauce • Nutty-Tart Pork with Cider Vinegar, Cashews, and Onions (Pork Vindaloo Version 2) • Halibut Fillets with a Coconut Milk-Mustard Seed Sauce • Hearty Kidney Beans with a Tart Onion-Chile Sauce • Green Peas and Kidney Beans with Yogurt and Cream • Whole Green Lentils with Coconut and Tomatoes • Fried Baby Eggplant with a Peanut Coconut Sauce • Tart-Hot Mangoes with a Coconut-Red Chile Sauce • Sliced Okra Bathed in Buttermilk • Savory Cinnamon Potato and Bell Pepper Strips • Chile-Spiked Potatoes with Turnip Greens • Squash with a Chickpea Flour-Lime Sauce • Wild Salmon Fillets Poached with Chiles, Scallions, and Tomato • Yogurt-Marinated Lamb with Rice, Saffron, and Mint
Buy this book »
---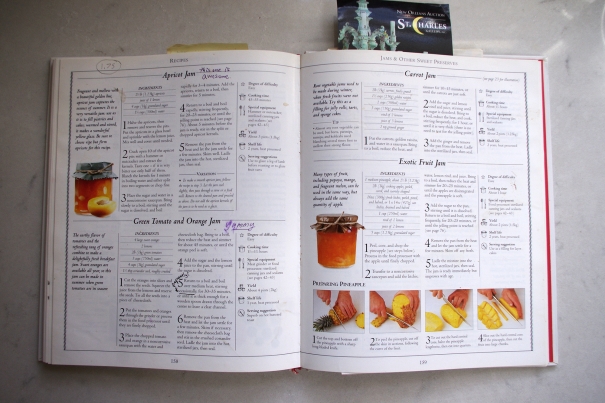 8) Preserving by Oded Schwartz
We've encountered quite a few fancy-looking, but ho-hum, preserving books over the years that don't provide much above the ever-useful Ball guide. This one is the exception, going way beyond your typical fruit jams. So if you're into preserving and want to expand your repertoire, find a copy of this wide-ranging, worldly, beautifully photographed book. There's so much to love:
Grape Lemon Pecan Jam • Stuffed Pickled Eggplants • Apricot Jam (including the inner part of the seeds for almondy flavor) • Green Tomato & Orange Jam • Carrot Jam • Exotic Fruit Jam • Duck Confit • Pickled Green Tomatoes • Preserved Lemons • Preserved Mushrooms in Olive Oil • Tomato and Pear Relish • Date Blatjang (Spicy Date Sauce) • Spicy Plum Chutney • Wind-Dried Duck Sausages • Green Tomato Chutney • Pate de Campagne • Rillettes • Gravlax • Smoked Salmon • Shallot Confiture • Pumpkin Marmalade • Vanilla-Flavored Peach Marmalade  • Minted Apple Jelly • Raspberry Syrup
Buy this book »
---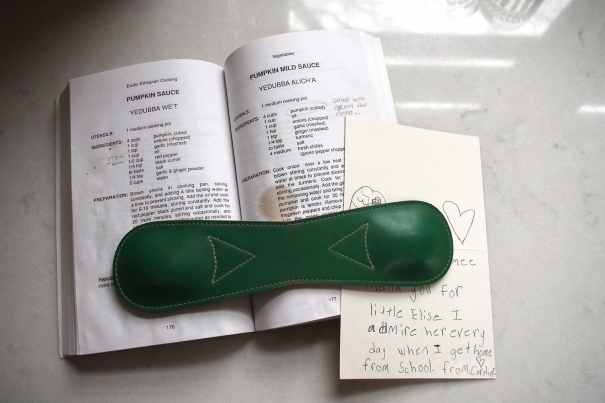 9) Exotic Ethiopian Cooking by Daniel J. Mesfin
Discovering Ethiopian cooking is a joy. I'm guessing it's a pretty ancient cuisine, and the flavors are luscious. One smell of homemade berbere (the classic Ethiopian aromatics and spice blend) and you'll be a convert. A few tips to help you get going:
First, believe it when he tells you to brown the onions without oil; it imparts a singular Ethiopian flavor to the dishes.
Secondly, be a good Ethiopian housewife, as he puts it, and cook the onions to the point where they will basically disappear into the final saucy dish.
You can cut back a little on the spice and rich amounts of butter & oil, and you'll still get delicious results.
Lastly, store-bought corn tortillas heated on a dry skillet can be substituted for injera when you don't have time for making it, or have leftovers. (There truly is such a thing as corn injera!)
Berbere (we make a much smaller quantity than the epic recipes suggests) • Pumpkin Sauce (Yedubba We't) • Pumpkin Mild Sauce (Yedubba Alich'a) Pured Green Lentils Harmoniously Blended with Spices (Azifa) • Split Broad Bean Sauce (Yebaqela Kik We't) • Fresh Chopped Tomatoes Blended in Spices and Injera (Teemateem Fitfit) • Split Pea Sauce (Yekik We't) • Hot Fish Stew (Ye'assa We't) • Collard Greens with Meat (Gomen Besiga–try it with brussels sprouts instead of collards!) • Mushroom Sauce (Ingudai We't) • Okra Mild Sauce • Injera Made From Teff (Yet'ef Injera) • Fasting "Cheese" From Potatoes (Yedinich But'echa') • Herbed Butter (Nit'Ir Qibe) • Spiced Oil (Yetenet'tere Zeyt) • Meat Cooked in Spice and Red Pepper (Yesiga T'ibs) • Slightly Cooked Meat Tartar (Kitfo Leb Leb) • Spiced Sausage Stew (Yeqwalima We't) • Chicken Stew (Doro We't) • Hot Minced Chicken Stew (Yeforo Minchet Abish)
Buy this book »
---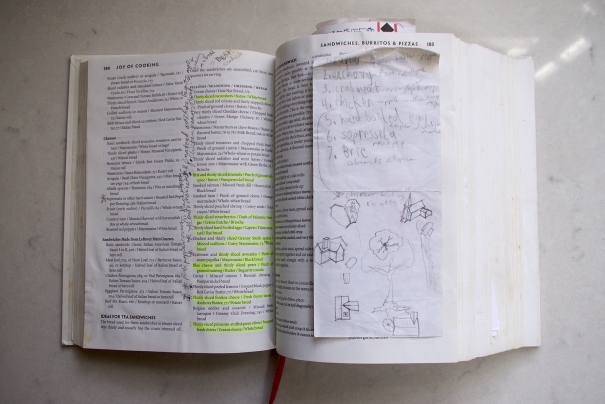 10) The Joy of Cooking (Seventh Edition, 1997) by Irma S. Rombauer, Marion Rombauer Becker, Ethan Becker (with advising chefs)
I've had a number of editions of The Joy of Cooking over the years, gifted by family, but we've stuck with the 1997 edition. It's not just a period piece like the old ones, but rather a well-edited, well-tested workhorse of a recipe book. It's been consistently superb. Recipes are precise, compact, and they work. None of the more glamorous all-inclusive cookbooks that have been released since then have usurped its importance in our kitchen.
Sandwich and Tea Sandwich Recipes (too many great ones to list, but don't miss radish/lemon/butter/mint tea sandwiches) • Zucchini Cheddar Bread • Banana Bread • Dutch Baby • Quiche • Chicken Stock • Hollandaise Sauce • Bernaise Sauce • Hollandaise Sauce • Beurre Noisette • Mayonnaise with Green Herbs • Aioli • Pistou • Greek Lemon Soup • Spanish Garlic Soup with Eggs (Sopa de Ajo) • Puerto Rican Chicken Rice Soup (Asopao de Pollo) • Soft Boiled and Hard Boiled Egg Methods •  Water Chestnut Rumaki • Baba Ganoush • Caesar Salad • Waldorf Salad • German Potato Salad • Green Goddess Dressing • Roasted Vegetable Lasagne • Dumplings • Shrimp Pad Thai • Tuna Sautéed with Olives, Capers, Peppers, and Tomato • Turned Roasted Chicken • Chicken Piccata • Chicken Cordon Bleu • Crispy Roasted Duck with Orange Sauce • Sautéed Venison Steaks • Veal Saltimbocca • Roasted Bone-In Leg of Lamb • Pear and Pecan Bread • Pancakes • Cornmeal Pancakes • Basic Sweet Crepes • Classic Chocolate Chip Cookies • Rich Rolled Sugar Cookies • Gingerbread House • Peach Pie • Deep Dish Apple Pie with Cheddar Crust • Tarte Tatin • Key Lime Pie • Chocolate Sheet Cake • Old-Fashioned Gingerbread • Gold Cake • Seven-Minute Frosting • Cream Cheese Frosting • Flan • Zabaglione • Panna Cotta
Buy this book »
---
Very Honorable Mentions:
More posts by Aimee Ellingsen »