"Variety is the Spice of Life." The CAKE Team Weighs in on Their Favorite Hot Sauces
---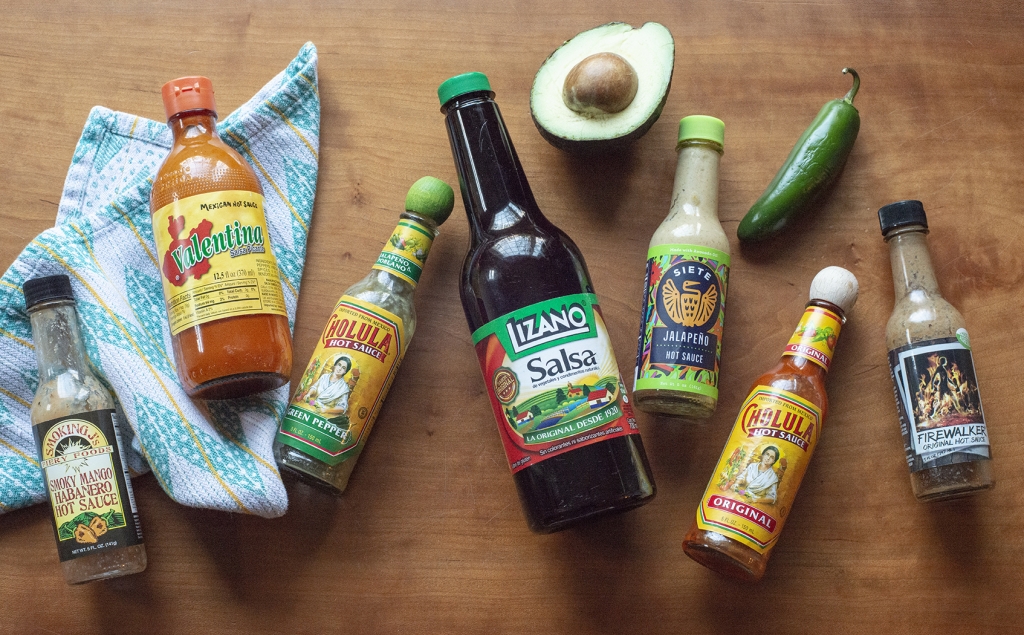 One trip down a specialty market aisle and you're likely to notice an array of brightly decorated hot sauce brands and flavors. Tough decisions await if you're a hot sauce aficionado like many of us here at CAKE.
Lucky for you, we've got a mouthwatering list to help get you started. Here are our favorite spicy, diverse sauces to start sampling (including some local Asheville flavors to try).
Neeley: Don't make me choose
Neeley is a hot sauce fanatic, so selecting only a few is like picking a favorite amongst best friends. But if you won't tell the other sauce brands, here are her go-tos:
Asheville's own Firewalker Running With the Reaper Xtra Hot Sauce: "Citrus forward and packs a mighty garlic punch, I put this on quite nearly everything."
Calabrian Chili Peppers by Tutto Calabria: "While not technically a hot sauce, this Italian spicy pepper puree packed in olive oil is amazing layered on a burrito, added to tomato sauce, or as a great pizza crust dip when you add some extra EVOO—you'll be so glad you did."
Horsetooth's This Little Piggy: "It's often out of stock, so grab it when you see it! A sweet and savory mild bacon hot sauce is the ultimate gift to breakfast."
Joy: Stick to the classics
When it comes to hot sauce, Joy tends to go with a few familiar and always satisfying options.
Frank's hot sauce, "because it's simple and good at room temperature."
"At home, my son loves Cholula Original after discovering it spiced up all the veggies he had to eat at summer camp."
Katie: Add to your dish, don't take away from it
For Katie, it's not about the heat but the flavor notes that come through as you enjoy your food.
"My favorite is the Green Pepper Hot Sauce by Cholula because it is delicious on anything and has a nice tanginess without overpowering your food."
Erin: Finding Zen in the perfect sauce
Sometimes, a simple, well-balanced sauce is all you need. Erin's favorite pairs well with just about anything.
"Siete Jalapeno is my go-to. I am definitely in the minority of the office in that I don't love spicy food. This sauce has a perfect balance of flavor and kick without being too overwhelming. It's also a beautiful shade of green and pairs perfectly with my weekly breakfast burrito, grain bowl or veggie burger."
Aimee: A hot sauce for every occasion
With hot sauce, Aimee thinks it's great to have a trinity of hot sauces on hand for different situations. Her top three, with their uses, are as follows:
Smokin' J's Smoky Mango Habanero Hot Sauce. "This is my go-to for a fresh, sharp addition to tacos, beans, tostadas, and burritos. It's also amazing on any Caribbean-style meal or stew. While it is a little smoky, the mango and habanero combo makes for a very fresh-tasting hot sauce, with the smoke simply adding some complexity. This Asheville-made hot sauce ousted the worthy Melinda's Original Habanero Hot Sauce as my long-time fave taco topping when it came out!"
Tapatio. "This is in the same family of flavors as the more commonly seen Cholula but I like Tapatio better. I feel like the chile flavor is more developed and the acidity is just right. It is fantastic on potatoes, eggs, quesadillas, or healthy garlicky greens tacos (we never make the specified sauce and simply douse them with lots of Tapatio)."
Tabasco Green Jalapeno Sauce. "My mom's side of the family is Cajun and so I grew up with regular Tabasco, but in recent years, I've been more inclined to reach for green Tabasco. It's a salty, green, bright, acidic hot sauce that is totally brilliant on fried chicken, insanely good with ham, and perfect on grits. I really love it with any Southern food."
Amelia: Original is best
For Amelia, sticking to a classic works every time.
"Cholula Original is my favorite! It adds a great flavor and a slight peppery kick without being too spicy or overwhelming. Delicious on eggs, in soups, or added to a spicy peanut sauce."
Shawn: It depends on the day
For Shawn, there are one too many hot sauces to choose from, and his faves depend on his mood. Here's how he was feeling today:
Cholula. "This one isn't hot, but it adds a perfect spicy/pepper flavor that can work on almost any dish."
Trader Joe's Habanero. "Habanero hot sauces are my favorites. I love the flavor of the pepper and the heat is just right! Trader Joe's Habanero is a little hotter than most habanero hot sauces I've tasted. It's also conveniently available at your neighborhood Trader Joe's at a very friendly price! "
Uncle Joe's Hot Sauce. "This is one of my new favorites. It's made in St. John in the US Virgin Islands with local scotch bonnet peppers. It has a unique pepper flavor with the perfect amount of pepper punch!"
Jessica: It's all about flavor, not heat
Jessica isn't about the burn. She sticks to complex, flavorful hot sauces over straight heat. Here's what she had to say about her favorites.
Cholula and Valentina: "These two top my list of daily go-tos for their depth of flavor and totally bearable, minimal heat. I tend to pass over anything too vinegary or that burns your taste buds off, as I find it detracts from the food rather than enhancing it."
Coqui Fire: "This line of sauces hails from Vieques, a small island off of mainland Puerto Rico that holds a very special place in my heart. Most of their options are hotter than I personally prefer, but the nostalgia packaged with layered flavors and a kick of exotic fruit make them a delicious, unique option to dab on a variety of dishes."
Steven: Use Heinz Ketchup as the primer
With so many great hot sauces out there, it's difficult for Steven to choose a favorite. That said, he does have a great suggestion for sampling those sauces that are high on the Scoville charts.
For those who cannot stand the heat, Steven says, "try Heinz Ketchup. It has a great smooth tomato flavor and rich, bold red color to accent the taste. It goes great with french fries, hamburgers, and just about anything else that would need a little bit of extra flavor."
He adds, "If you want to work your way up to more heat-intense sauces, place a golf ball-sized amount of ketchup on a plate and add one drop of the hot sauce of your choice then mix well. The ketchup will dilute the heat of the hot sauce. This is also a great way to test extreme hot sauces, such as Da' Bomb Beyond Insanity Hot Sauce, without fully committing to full burn. Enjoy."
Clark: Less hot, more sauce
Sometimes, you just need to keep things simple. Here's Clark's go-to:
Lizano Salsa. "It's especially good on bean dishes or for spicing up leftovers that have a Mexican or Carribean flavor profile. Not really hot but definitely a sauce."
James: Put it on everything
Choosing favorites was simple for James:
#1 daily put-on-everything sauce: El Yucateco Green. "I love pretty much any of the varieties El Yucateco makes, but the green has the perfect pepper flavor to vinegar to spice ratio for putting on everything. And the neon green color makes you feel like you're eating radioactive material, so that's fun."
#2 daily put-on-everything sauce: Sontava Habanero Hot. "This one used to be #1 but got bumped off by El Yucateco Green. Still a staple though."
For burning: Hot Ones The Last Dab Redux. "Somehow they managed to make a sauce that's simultaneously the hottest thing you've ever eaten and also one of the best pepper flavors you've ever eaten. A few drops on the spicy noodles from Little Bee Thai = the winner."
Gwen: It's all in the family
Not one for experimenting with hot sauces, Gwen has a rogue point of view!
She states, "As far as I'm concerned, there are only two cases where a really hot sauce is called for— hot house mustard on spring rolls, and hot cocktail sauce made with ketchup and horseradish for eating with shrimp. I have my mother to thank for both of these spicy preferences!"
Shope: A history of burn, or what doesn't kill you makes you stronger
Our team Scoville master, Jason Shope, has plenty of experience to back up this list. In fact, he could write a blog post about this subject all by himself. If you like heat paired with sophisticated flavor, keep reading beyond this introductory list to learn more about his choice of mouth-tingling dish toppers.
Shope's hot sauce recommendations in order of how much he loves them. Starting with most loved:
The backstory. It was love at first hot sauce:
"The first hot sauce that piqued my interest in hot sauces beyond the basics that you would find in any greasy spoon diner—like Tabasco or Texas Pete—was an in-house sauce at a local Mexican/Caribbean restaurant, Salsas. The sauce was called Hector's Hot Sauce. It wasn't novelty level hot, but the spiciness was much, much hotter than I was used to at the time. It would have been too much for me except for the fact that it actually surprised me by tasting GOOD!
"I had tried Dave's Insanity sauce and other "We're super hot!" sauces, but they never were anything I'd use as an actual condiment. Heat for the sake of heat at the expense of flavor isn't that interesting to me. Hector's was different. It was hot, and it tasted like something I would want on my food. I was hooked.
"Hector's sauce is kind of spotty to find. It can be purchased inside a couple of his Asheville restaurants (Salsa's and Bomba, at least the last time I checked) and is available at the table when dining in. To this day, it is probably my favorite—very Caribbean in flavor; sweet, somewhat smokey, not strong with vinegar."
Some close seconds in case you can't find Hector's:
"With Hector's being hard to find, I need fallback options for my fix when I'm looking for Caribbean style hot sauce. El Yucateco is pretty easy to find and is as close to Hector's as any sauce I've found so far.
"If I want more heat than El Yucateco, The Last Dab by Hot Ones presenter, First We Feast, is as hot as anyone would reasonably want a sauce to be, and I feel like the flavor falls right into this category. It is very hot and very tasty.
"Tabasco is still a perfectly acceptable sauce for everyday use. But, if you want roughly that level of heat and the same thin, vinegary vibe with a more sophisticated flavor, The Classic, also by First We Feast, is top of the heap.
"Years ago, Sontava made a carrot-based sauce that was as unique as it was tasty. Spicier than the basics but not deadly hot. It did not taste like any other sauce on the market. It could be used with eggs, beans, even on pizza… a real multi-purpose sauce that I loved. Sadly, they have either ruined their recipe, sold out or gone under. The good news is that Marie Sharp's appears to have picked up the mantle in recent years. Marie Sharp's Hot Habanero Pepper Sauce is 100% worth checking out and is nearly identical to the old carrot-based Sontava recipe."
As you can see, we like our sauces here at CAKE. So, which ones are you going to try?
More posts by CAKE Websites »