Don't say "We're Closed." Say this instead.
---
It's a challenging time for businesses across the country but there is something simple you can do: avoid the marketing mistake of announcing you are closing. Instead, say that you are "Going virtual."
When someone in the U.S. reads that a business is closed or is closing, they will associate that statement with these ideas:
No one is available to help me.
They won't be here in the future.
I may lose any money or data I have given to that business.
Many businesses that close temporarily never reopen.
Now consider what a "We are going virtual" announcement means:
This business is following good practices by protecting the public and staff from getting sick.
This business is likely to be here in the future.
If I need help they have staff who are going to be available to me.
This business is continuing to function.
In both cases you can follow all local, national, and professional society guidelines for your business. Additionally, continue to publish regular content on all your social media channels to maintain your connection to your audience.
Beyond emailed and social media announcements, don't forget other points of contact people may have with your business at this time. This can include your phone message/answering service and signage at your physical location.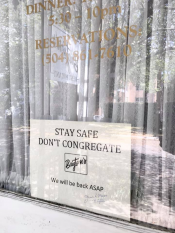 Best wishes from the CAKE team as we navigate the Coronavirus pandemic and flatten the curve together.
For further reading:
More posts by Clark Mackey »