An interview with Philip Pledger of Airtype Studio in Winston Salem
---
Last fall, my wife Katy was taking the GRE in Winston-Salem. I tagged along, and we stayed the night in a sweet Airbnb in Winston-Salem (it even had an indoor half pipe!). With a few hours to kill and a city to explore, I looked to the web for options and found something so much cooler than Yelp reviews: the Winston-Salem Field Guide, a map of downtown that highlights businesses who are helping Winston-Salem thrive as a "culturally creative city."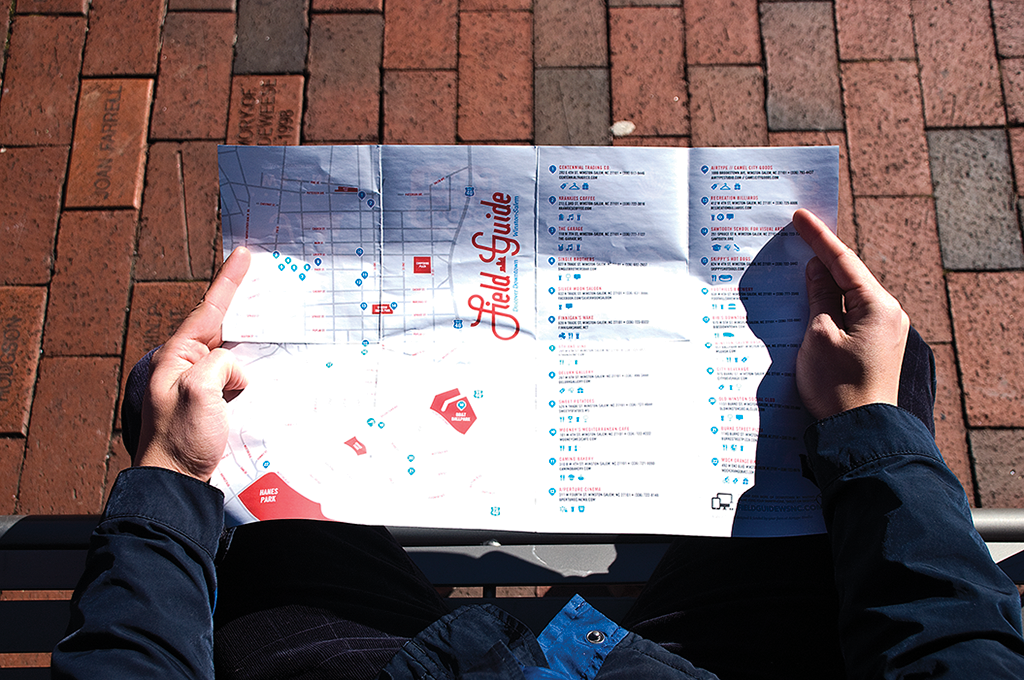 Two thoughts popped into my mind:
Is 3 hours enough time to visit a coffee shop, brewery, BBQ joint, diner, independent cinema, museum, and a record store?
This guide is such a good idea—I wish I had thought of it!
I love this type of interactive, content marketing. The map allowed me to interact with these businesses both virtually and in real life. I had to know more. I learned that Airtype is the design, branding, and interactive agency in Winston-Salem that actively curates the Field Guide. Philip Pledger, a producer at the Field Guide, was kind enough to answer some of my questions.
When did the Field Guide start?
The Field Guide was launched in 2012 as both a print map and a web app. Since then, we've probably gone through 4 or 5 different editions of the print map, each with its own variations. We're currently building the new digital home for the Field Guide, which we're very excited about.
How did Airtype promote the launch? How do you continue to support the campaign?
The most obvious means of promotion for the Field Guide was (and continues to be) the print map, which can be found at various locations around downtown Winston-Salem, and it's free for people to take. It may be bad business, but thus far, awareness for the Field Guide has relied almost entirely on word of mouth publicity and "organic" social media attention. We've presented at a few Field Guide-branded community events and will likely put a little bit of money behind social media posts centering on our new video series, but we largely rely on people finding the Field Guide for themselves and sharing it with their friends, in the real world and online.
In our view, it's a platform about Winston-Salem, for Winston-Salem, and we kind of like the idea of people discovering it for themselves and having their own interactions with the platform. That's not to say we won't promote the new website when it launches, we just tend to air on the side of letting people discover it in natural ways. It's been cool over the years to have people approach us and ask for copies of the Field Guide to give to their friends, ask when the new print version will come out, or simply to tell us they appreciate what we're doing with the platform. We've even had people contact us for weddings, asking to buy hundreds of print maps to give to their wedding guests from out-of-town, which is really cool.
How did you choose the businesses? Do you ever add or remove businesses?
In case it's not obvious, we don't charge businesses to be included in the Field Guide—and we don't accept money in exchange for inclusion. Because money is completely removed from the equation, and because we're completing self-funding and maintaining the platform, we enjoy the freedom of having absolute discretion with what businesses we feature and how the platform grows.
We love Winston-Salem…we live here, we work here, we eat and drink here. We want it to be the best version of the city that it can be. For us, our mission with the Field Guide is to present the best possible picture of the city. It's difficult to say what the hard criteria is for how we choose businesses, but generally, we tend to choose businesses that are exciting to us, businesses that inspire us, who are doing something really well.
Because there's limited space on the print map, and because the city is a fluid organism that's always changing and growing, each edition of the print map has variations in the business listings. It would become pointless or obsolete if the print map never changed or highlighted new spots. As far as the web goes, we continually add new businesses as time goes on, and we're excited about new ways to showcase different aspects of Winston-Salem with the upcoming new version of the site.
What are the goals of the Field Guide and how do you track the success?
The prime goal of the Field Guide is to present Winston-Salem in the best light possible and to support the businesses who make this place special. The platform would most certainly be a failure if profitability were the metric for our success, but since it's a labor of love, money doesn't dominate how we view the project. We want to be a force for progress in the city, from a cultural, social, creative and artistic perspective. There are over 200,000 people who call Winston-Salem home, and we want those people to go out and enjoy their downtown area. It can be a special place, and downtown needs support from the city as a whole to truly thrive.
Winston-Salem is no different than any city; sometimes there are really talented people, business-owners, entrepreneurs, and artists who simply struggle to gain traction or raise awareness about their businesses or projects. It may be because they don't have money to spend on advertising, they may be located in an untraditional location, or they may just be ahead of the curve and not yet have the customer base to support their endeavor, despite having a worthy business idea. So, if we can realistically help drive attention and traffic to people who are working hard to do something with excellence, I would say we're well on our way to success as far as the Field Guide's role in the community.
Where are the Field Guide print maps distributed?
There are a handful of places around downtown where we regularly drop off the Field Guide print maps for people to pick up at their leisure. The flagship store for our apparel brand, Camel City Goods Co., is actually located on the first floor of our studio's building, and it's probably the most popular pickup place; the print maps disappear pretty quickly here.
How has the campaign evolved/changed? What part of the Field Guide worked surprisingly well and was there something that didn't work?
The original Field Guide web application was designed to provide users with easy access to a well-curated list of businesses and organizations, based on what the user was trying to do (eat, drink, shop, experience music or art, etc.). For a while that served its purpose; of course, there are services like Yelp out there that people can easily use, but we wanted to give a truly local perspective, some tips for people to experience a side of Winston-Salem they may not have seen if they were just passing through and using a major travel app.
With that goal in mind, I think the first draft of the Field Guide web app served its purpose, though its utility eventually diminished without new rich content being generated for people who already understand the lay of the land.
That's a major reason why we're excited about the new phase of the Field Guide website. We'll go beyond business listings and venture into some new editorial territory, including content like our documentary-style video series, articles, interviews, and a well-curated events calendar. I think the new version will give people a reason to return to the FG to explore new content on a more regular basis, and it will provide us with more tools to highlight people and places around town who continue to make Winston-Salem a cool place to live.
View the field guide
Thoughts on the Guide from a Marketer & Winston-Salem Native
I was drawn to Airtype's Field Guide because I haven't seen such clever piece of content marketing. It conveys to the user Airtype's position as a brand agency specializing in creative interactive elements. To find out more about the nuances of design theory, I asked Shawn Hiatt, a designer here at CAKE, to offer his design opinion of the field guide.
"Overall, the design is well thought out and effective; from the size of the guide itself to its friendly use of color and typography. The vibrancy of the design reflects the types of businesses included in the guide. I love the contrast of the "soft" blue and red; it's very easy to pick this guide up, unfold, and interpret it. Uniquely designed icons help people identify what each business offers (i.e. Mooney's Mediterranean Cafe is marked with fork and knife and pint glass icons so we know they offer food and beverages, but there's also an icon of a hookah). This pocket-sized map provides insight to the amount of diversity downtown Winston-Salem businesses have to offer. It is useful for anyone, whether you're a local or visiting the city."
While the Field Guide was not created to generate revenue directly, it does have an indirect benefit for Airtype. Because it is an impressive marketing tactic, the Field Guide could generate leads and sign prospective clients. Working with several local businesses, Airtype has firmly established itself in Winston-Salem. A rising tide lifts all boats, and a vibrant downtown Winston-Salem helps Airtype and its local downtown clients.
More posts by Alex Deckard »